Easy-to-Use Technologies That Help Seniors with Daily Life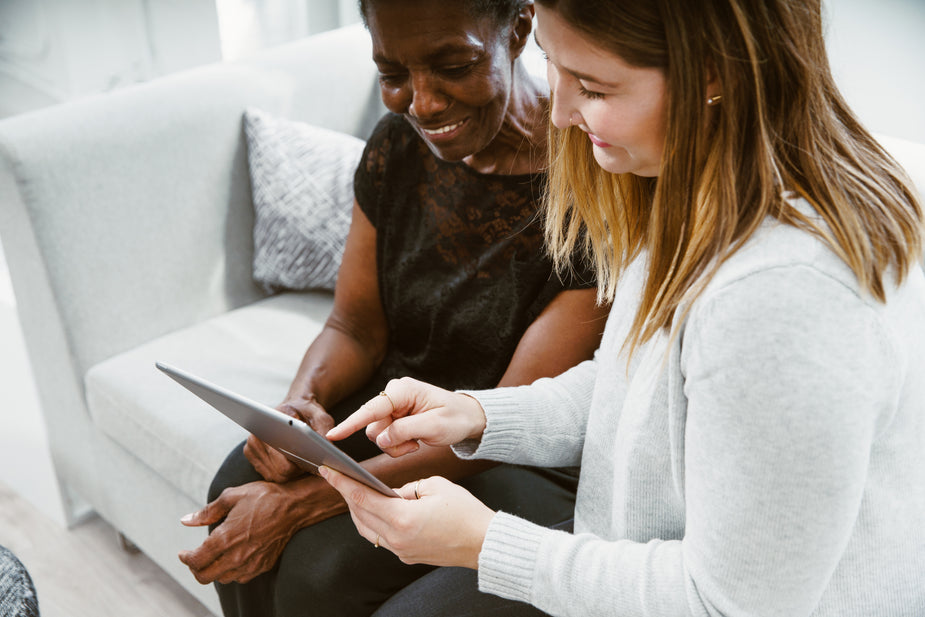 We're fortunate to earn money when you click on links to products or services we already know and love. This helps support the blog and allows us to continue to release free content.
Read our full disclosure here.
Although digital technology makes our lives easier, older adults sometimes feel hesitant to embrace it. According to ScienceDaily.com, older seniors often avoid new tech because they are afraid to make mistakes, or because the tools are too "arduous and time consuming."
It also doesn't help that the latest operating systems and device models can often seem cost-prohibitive, especially to those who are already on a fixed income. A recent study showed that cost is a leading barrier preventing older adults from using certain technologies.
Luckily, there are plenty of senior-friendly digital technologies that are affordable, easy-to-use, and useful for older adults. Here are some recommendations:
Refurbished Devices
Believe it or not, you don't have to drain your household budget to purchase senior-friendly tech. If buying the latest, brand-new device seems too expensive, you could opt for an older model instead. A great option for seniors is to purchase a top-quality refurbished device (such as laptops, tablets and cell phones) from a secondhand reseller. The price will be more affordable, and you'll still have all the features you need without worrying about all the bells and whistles.
Go For New
If you prefer to avoid refurbished devices, there are plenty of options for brand new tech without overspending. If the name of the game is to buy senior-friendly technology, look for top-rated brands that sell great devices at lower prices. For example, Lenovo offers several laptops with four-plus star reviews that come in at less than $700, like the Chromebook Duet or the IdeaPad Flex.
Senior-Friendly Apps
If you already have a smartphone or tablet, there are several free and low-cost applications (also known as "apps") that are worth installing. One of these is Lumosity, a brain training app that's available at no cost. It's well-known that "mental stimulation" can potentially help reduce your chances of developing Alzheimer's disease and dementia. Lumosity helps strengthen your brain through games, puzzles, and other mental workouts.
Medisafe is another app that's worth considering. Available for Apple's iOS or for Google's Android devices, Medisafe not only helps you keep track of your daily medications, but it also provides automatic reminders whenever it's time to take each medicine.
When it comes to simplifying budgeting tasks, Vermillion is an excellent option. This app makes it easy to track your expenses, save money and monitor your spending. Finally, the AARP also provides an exclusive free app designed specifically for seniors. AARP Now offers curated news, local discounts, rewards points, a fitness tracker, and access to community events with seniors in mind. From tracking medications to preventing dementia, these apps highlight how affordable technologies can play a major role in improving lives.
Stay Connected to Loved Ones
Numerous studies have linked senior isolation to various health risks ranging from depression to developing infections. Even if your loved ones live far away, you can use digital technology to stay in touch these days.
For instance, video conferencing services like Skype, Zoom, and Google Hangouts let you see and speak to others over the internet. All you'll need is a webcam and a microphone, although the ones that are included with your laptop or smart device are probably fine. Alternatively, an Amazon Echo Show or a Google Nest Hub Max offer the convenience of both a smart speaker and a smart display so you can see family and friends as well as find out the current forecast.
From cost to ease of use, there are many factors that prevent seniors from interacting with the latest technologies. Fortunately, many digital technologies are both affordable and senior-friendly. Thanks to all the benefits of modern tech, seniors can reduce isolation and maintain happiness throughout their retirement years.
Related Posts